How Would You Like to Heal Your Pelvic Floor in

12 Weeks

?
Overcome Your Pelvic Pain at Home with Our Proven System
Start for Free →
Join 1,000+ men who let go of their pelvic pain in 12 weeks

Created and recommended by Doctors of Physical Therapy

Holistic and easy to do at home
"In two months, 80% of my symptoms went away."
-Mehmet, Turkey
How I Turned 5 Years of Agonizing Pelvic Pain into Sexual Strength and Found My Purpose to Help YOU
I know what it's like to be confused and in pain, feeling like less of a man. I went from 5 years of (close to suicide) agonizing pelvic pain to sexual strength (multiple orgasms for my partner) and balance in my body (yoga flexible and gym powerful)! And, I'm so grateful that I've helped more than 1,000 men do the same.
I've been in your shoes. I had CPPS (pelvic floor dysfunction) for five years. By far the darkest time in my life. It was painful just to sit down. The tightness and tension that wouldn't go away. Not being able to work out or have sex without flaring up. Taking 5 minutes just to start the flow of urine…so many symptoms, so many treatments, so many therapies — and nothing was changing. I went on a deep discovery to find the most direct and effective methods to overcome pelvic pain, and now they're available for you to use. You don't have to suffer for five years like I did!
Michael's Story and Why He Created Overcome
Are you still handing over your health to google searches and trying random therapies,

hoping that something works

?
Overcome Pelvic Pain is a

proven path to recovery

.
A fully-guided at-home program that works.
90.5% of Overcome participants saw improvements in their symptoms in 12 weeks.1
1

Based on Overcome completion survey respondents.
Overcome Pelvic Pain gives you EXACTLY what you need to get back to strength.
A scientifically-based approach
, created in conjunction with a Doctor of Physical Therapy.
Only 30 minutes a day

— with the movement routines, meditations, and other tools you need.
Direct access to Michael and other coaches
, where you can get your questions answered as you recover.
"This program gave me hope that my pelvic floor can be treated. I was in a lot of pain when I started. I did the 12 week program and am still doing the stretches.

I feel a lot better now.

"
- Ben, Entrepreneur, USA See Full Review →
Get Your First 7 Days of Overcome

FREE

and Start Changing
A guided stretch routine to release your pain and tension.

A breathwork practice to relax the nervous system.

Simple lessons to better understand your pelvic floor and how to heal.

This is Week 1 of the Overcome Pelvic Pain 12 week experience.
Start Now →
I felt misunderstood and confused…my doctors didn't understand what was going on, and no one seemed to know how to help — is that you, too?
CPPS is still misunderstood (or worse, not even known about) by many medical professionals. It's not your fault that you've been suffering. New information will lead to a new experience.
So what is actually going on in my body right now?
2 | Nervous System Responds
6 | Chronic Fight or Flight
7 | Highly Sensitive to Stressors
There is a way out of the cycle. It's called The TRNSFRM Formula. The proven path to naturally recovering from CPPS.
Why do some men heal in a few months and others stay stuck in chronic pelvic pain for years?
It's because there is a big misunderstanding on how to heal pelvic floor dysfunction. You can't just do stretches, go to physical therapy, and other external therapies expecting the issues to go away. Those are, at best, short term band-aids.
You must change YOU. How you think. Your habitual emotions. All while doing the physical side of movement and nutrition. The Overcome program works because it brings it all together. We know that the physical and the psychological created this imbalance and also fixes this issue.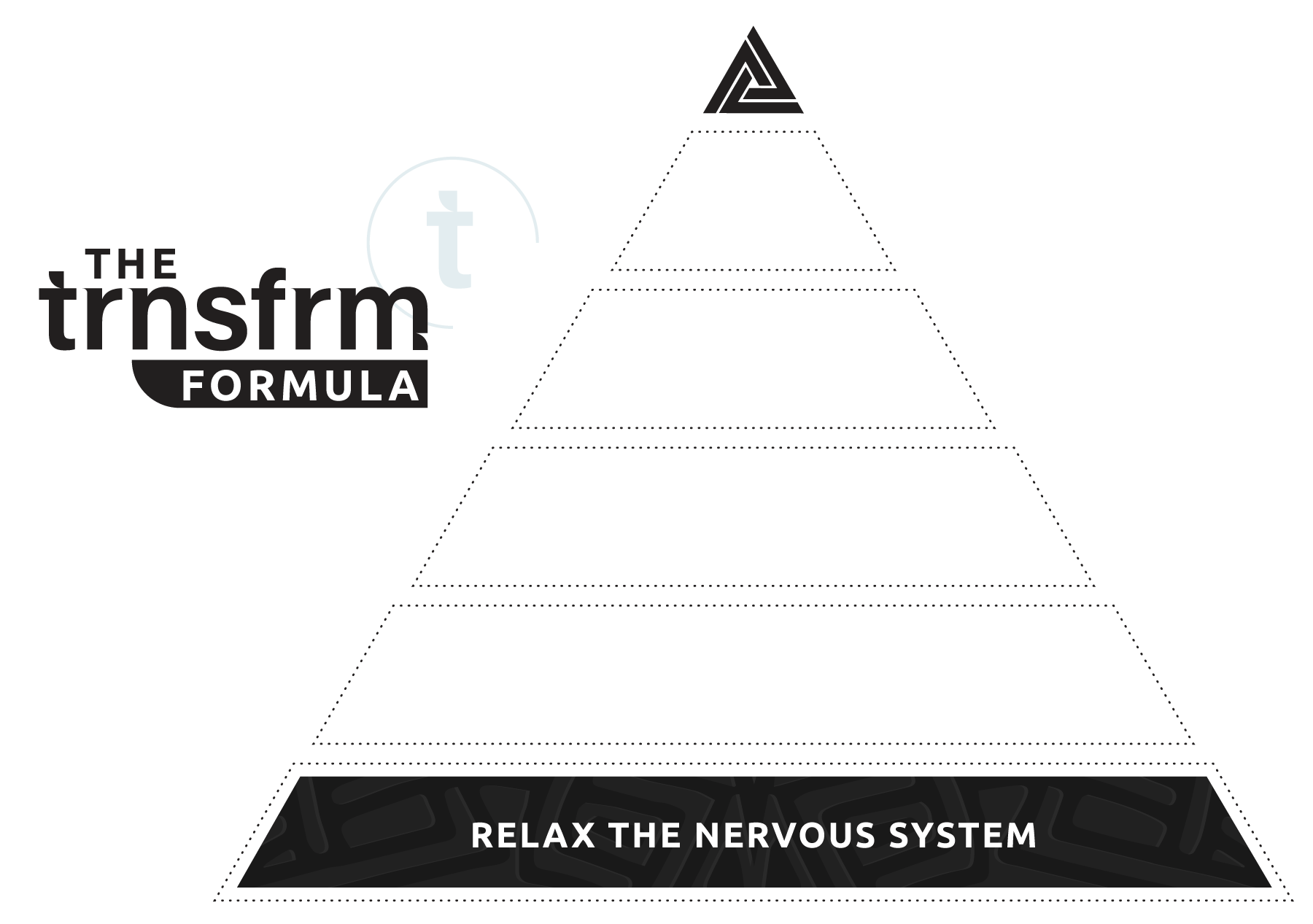 Step 01
Relax the Nervous System
You will begin by calming down your mind and body, with movement routines, trigger point releases, and other simple practices.
Step 02
Change the Body
The scientifically designed movement routines evolve week-by-week, as you relax your pelvic floor, rebuild the surrounding muscles, and then directly retrain the pelvic floor.
Step 03


Nourish the Gut

Our nutritional guidance will reset your gut, bringing your digestion and nervous system into better function, giving you more energy to heal.
Step 0

4


Balance the Brain

Chill out the mind, with breathwork practices to bring harmony to the hemispheres of the brain.
Step 05


Reprogram in Joy

Subconscious reprogramming meditations that rewire your neural circuitry and reset your body back to normal functioning.
Over 90% of Overcome participants experienced a decrease in pain and tension.2
2

Based on Overcome completion survey respondents.
How would it feel to be free of your pelvic pain?
Your first step is the
Free 7 Day Kickstart to Healing.
Start for Free →
"In just two weeks I was feeling better and now almost 3 months along I'm probably

75% symptom free

."
- Troy, Physician, USA See Full Review →
Overcome Pelvic Pain was co-created by Dr. Brianne Grogan, a Doctor of Physical Therapy with experience helping thousands of men and women to recover from CPPS. With over 300,000 subscribers on YouTube, articles featured on MindBodyGreen, courses on DailyOM, and a 5-star reviewed book, Dr. Bri is a leading voice in the field of holistic pelvic health and wellness.
Overcome Pelvic Pain is recommended by numerous physical therapists, urologists, and sexual health practitioners.
"I am a physiotherapist in private practice and all of my patients have pelvic floor dysfunction while many have chronic pelvic pain. It takes me all of my time to assess, treat and advise. I have no time left to instruct all of the essential exercises that will be key to my patients' recoveries. Dr. Bri and the team do it all for me and they are so knowledgeable and teach so well that I rarely need to add to their programs."
- Maeve Whelan, Milltown Physiotherapy
But you might be thinking…

is this program right for my condition?
Overcome empowers you to take control of your own pelvic health, at home. We always recommend visiting a physician and ruling out any major health issues first, if you've done that, and are still experiencing one of the following symptoms or conditions, then Overcome is designed for you:
CPPS (Chronic Pelvic Pain Syndrome)

Pelvic Floor Dysfunction

Chronic Nonbacterial Prostatitis

Levator Ani Syndrome

Pudendal Neuralgia

Interstitial Cystitis

Hard Flaccid

Bladder Frequency/Hesitancy

Unexplained penile or testicular pain
Imagine feeling more relaxed and at ease one week from now by starting TODAY.
Kickstart your recovery back to strength with your

FIRST 7 DAYS FREE
Learn why you are experiencing these issues and the clear path to recovery.

Release the tension and pain with a daily stretch routine.

Relax your mind and begin rewiring with a breathwork practice.

This is week 1 of the full 12 week program, you're already on your way!
More Success Stories
Which of these results inspire you the most?
Finally Relief...After 3 Years of

Pudendal Neuralgia
My pelvic pain is related to a pudendal nerve injury I received over 3 years ago. It has caused extreme physical and mental distress. The area of the pelvic region affected has been the 'sitting bone area/tailbone' and pain throughout my genital area. It has also compounded an upgrade of my sympathetic nervous system in my head and body. I enrolled in the 12 week Overcome Pelvic Pain for Men program by Michael Hodges and Dr. Bri last September 2021 to get some physical and mental relief. The program consists of stretching exercises (yoga), meditation and deep breathing techniques. It is very detailed oriented. Michael guides you visually thru each exercise and his advice, care and concern for your well being is evident throughout the 12 week program.
- Charles S., USA See Full Review →
Urinary Issues

Dissolved with Overcome
In March 2021 I started to develop UTI like symptoms: painful ejaculation, burning during and after urination and I felt urine trapped to the walls of my urethra after urination. I was finally diagnosed with pelvic floor dysfunction in August 2021 after having negative urine tests. I started the Overcome Program for Men in September and have noticed substantial results. I'm less tense in the pelvic area, I'm less hesitant while urinating and I don't feel as much urine trapped in my urethra after urination. I highly recommend this program if you suffer similar symptoms and I will continue to use it even after I'm fully healed.
- Shane W., USA See Full Review →
You're Either All In
or You're Down for the Count
Sometimes my dog walks up to the door after I open it, he sticks his head out, and then backs away. He can't commit to going outside or staying in. Do you feel like this? Do you feel stuck by not knowing if something will work? Not trusting the right path to heal? I invite you to imagine your life one week from now. You are feeling better. You're empowered with new information. You're walking down a path that has been PROVEN by many men before you. You see the light at the end of the tunnel and it's getting brighter day by day. Change isn't easy, but it does require commitment. Something can't work if you don't even try. Do you have 30 minutes a day for your own health? You don't have to be perfect, you just have to show up. It gets better and better from here. I'll see you in the 7 Day Kickstart. Let's do this!
In Strength,