Get positive results in 12 weeks like 1,000+ men, or get your money back.

Created and recommended by Doctors of Physical Therapy.

Easy to do at home - no devices, meds, or driving to appointments.
"I was able to relax my pelvic floor – maybe for the first time in years."
- Jordan Parks
I Went from 5 Years of Close-to-Suicide Pelvic Pain to LOVING LIFE and FEELING SO STRONG
I know what it's like to be searching for answers, just hoping that something will work. From doctor to doctor, google search to video…I tried natural remedies, healers, and years of treatments. Why wouldn't the pain go away?
My marriage was crumbling from the lack of intimacy. My little 3-year-old couldn't understand why I was in pain and couldn't play with her. Why I was spasming on the floor after a bowel movement. Others saw a frail skeleton trying to get by, seemingly doing all of the "right things." What was I missing?
Thankfully I finally pieced it together, creating a formula that helped me not only heal but now feel incredible sexual strength (I mean, unbelievable stuff…). I came together with Dr. Brianne Grogan to produce the most effective way to overcome CPPS (pelvic floor dysfunction), by transforming from the inside-out.
⬇

Michael's Story and Why He Created Overcome (2 min.)

⬇
Do you feel isolated and misunderstood by pelvic pain?

Don't go another day…
...with debilitating pain - stopping you from living your life
...with less-than-desirable sex or major sexual dysfunction
...feeling like an isolated, "broken man," where no one around you gets it
...peeing several times each night, or taking 7 minutes just for the flow to start
...trying Western medicine treatments that get you nowhere, leading to more worry and anxiety
It's not your fault. There is very little trusted information on CPPS and how to fully recover. We are CHANGING THAT. Most men are making the same mistake of just doing stretches and random therapies,

without addressing the root cause — is that you?
33 Years of Pelvic Pain FINALLY Dissolved
I'm 70 years old and I've had pelvic floor pain and dysfunction for 33 years. So, I came in hopeful, and skeptical. I immediately felt better. After a few sessions, really VISUALIZING the muscles relaxing, they relaxed! I had less pain, less dysfunction, and more HOPE!
-Bill Kalter, Florida
So what is actually going on in my body right now?
2 | Nervous System Responds
6 | Chronic Fight or Flight
7 | Highly Sensitive to Stressors
There is a way out of the cycle. It's called The TRNSFRM Formula.

The proven path to naturally recovering from CPPS and urinary frequency.
Why do some men heal in a few months and others stay stuck in chronic pelvic pain for years?
It's because there is a big misunderstanding on how to heal pelvic floor dysfunction. You can't just do stretches, go to physical therapy, and other external therapies expecting the issues to go away. Those are, at best, short-term band-aids.
You must change YOU. How you think. Your habitual emotions. All while doing the physical side of movement and nutrition. The Overcome program works because it brings it all together. We know that the physical and the psychological created this imbalance and also fixes this issue.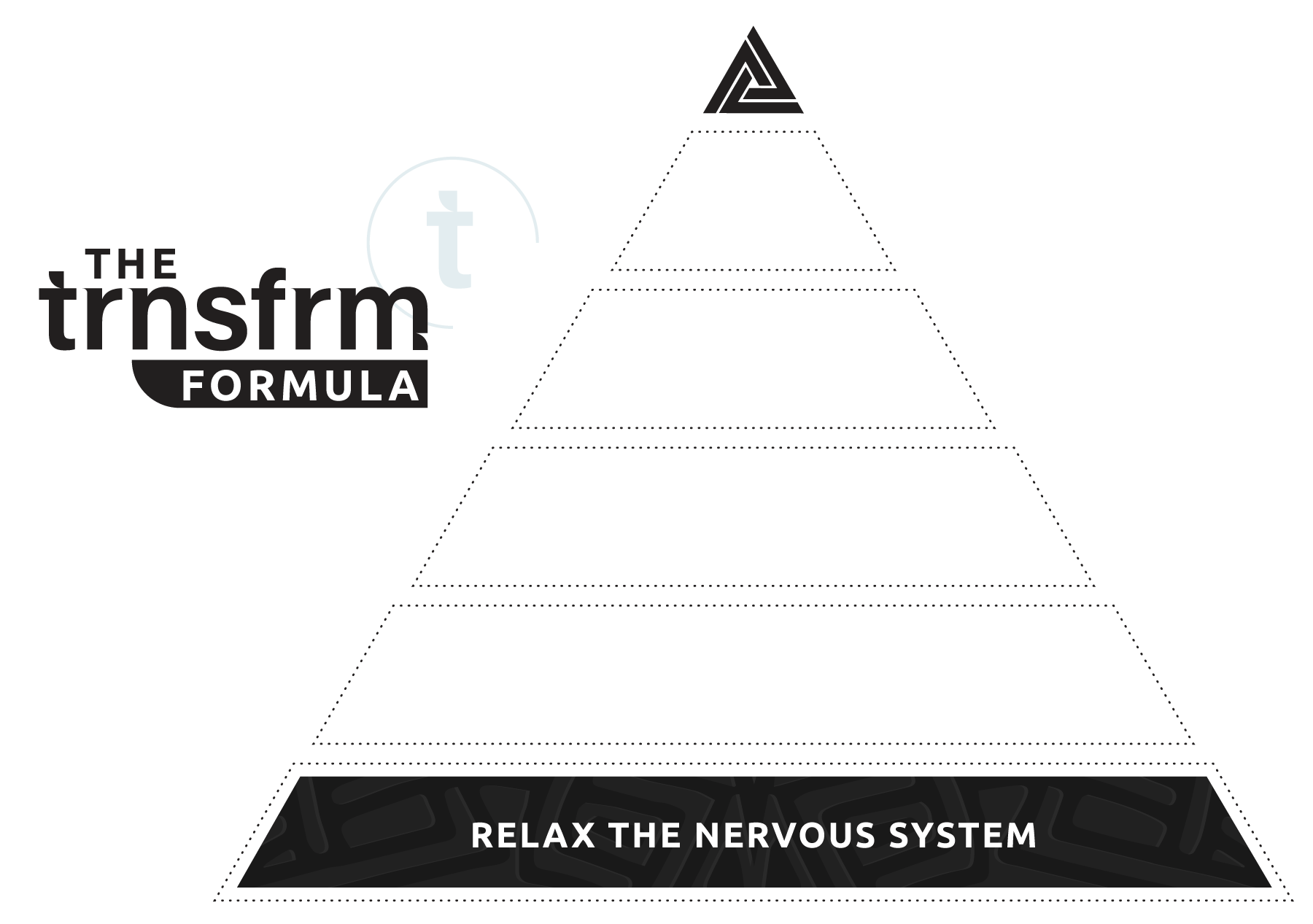 Step 01
Relax the Nervous System
You will begin by calming down your mind and body, with movement routines, trigger point releases, and other simple practices.
Step 02
Change the Body
The scientifically designed movement routines evolve week-by-week, as you relax your pelvic floor, rebuild the surrounding muscles, and then directly retrain the pelvic floor.
Step 03


Nourish the Gut

Our nutritional guidance will reset your gut, bringing your digestion and nervous system into better function, giving you more energy to heal.
Step 0

4


Balance the Brain

Chill out the mind, with breathwork practices to bring harmony to the hemispheres of the brain.
Step 05


Reprogram in Joy

Subconscious reprogramming meditations that rewire your neural circuitry and reset your body back to normal functioning.
Over 90% of Overcome participants experienced a decrease in pain and tension.2
2

Based on Overcome completion survey respondents.
A Full Recovery is Possible. Don't Settle for Just "Managing" Your Issues.
This isn't a life sentence.  Join me and many more men who have Overcome their pelvic and urinary issues with this holistic system.
Overcome is designed to help you...

Alleviate your pelvic tension (CPPS)

Restore your muscular function

Enjoy having sex again

Clear our urinary issues

Love your body again!
All without having to travel to expensive sessions or undergo surgery.
90.5% reported notable improvements and reduced pelvic pain with Overcome!*
After going through Western medicine, testing, natural doctors, acupuncturists, physical therapy, herbs, and so much more - it finally all fell into place once I had that perfect mix of movement, nutrition, and the mind-body connection.
I created Overcome with Dr. Brianne Grogan to create a science-backed approach that holistically addresses the root cause - not just the symptoms.
*Based on Overcome completion survey respondents.
Michael's Responses

Have Really Helped

This program has been a tremendous help to me physically and mentally. It is not only the exercises and meditations but the private community where Dr Bri and Michael respond to requests for help and advice and people share experiences.

- Tim T., UK
I Was on the Verge
of
Quitting My Job
My urologist colleagues tried the usual litany of antibiotics, dietary changes and pain pills. Nothing helped. In just two weeks I was feeling better and now almost 3 months along I'm probably 75% symptom free.
- Troy, Physician, USA
Overcome Pelvic + Urinary Issues is a

12 Week Fully-Guided Program
Overcome Pelvic + Urinary Issues is a 12 week program that combines weekly movement routines, mind-body practices, nutritional guidance, coaching support, and relaxation practices to bring you back to strength.
See What You'll Get When You Join Overcome Pelvic + Urinary Issues
12 Restorative Routines
A weekly practice that trains your pelvic floor to move in balance and harmony.

Scientifically designed stretches that relax your tension, and exercises that progressively add back in strength.


Designed by Dr. Brianne Grogan, a Doctor of Physical Therapy, from years of testing and application.
Trigger Point Releases
Release nagging tension with these simple practices.

Great for when you need some "extra relief."


A wonderful self-massage to soothe your pelvic floor as you recuperate.
Deep Relaxation Poses
Soothing, restorative poses, with guided audios that clear your mind.


Calming for the nervous system to help curb symptom flare ups.



Like floating on a cloud, but in your home.
Nutrition
Detailed nutritional guidance, so that you know what to eat.



Understanding why eating certain foods can trigger symptoms.



The truth about how food affects your pelvic floor.
Meditations
Research-backed meditations designed to rewire your brain and body back to health.

The single most important factor to addressing chronic pain is

through the brain

.

Beautifully guided with proven neurological approaches to make deep changes in your body.
3-Month Calendar
Just print it out and take it one day at a time.

Everything is laid out for you, no guesswork.

A proven path to walk, just like others who healed before you.
1-on-1 Assessment Call
with Michael
($250 value)
Michael will personally review your intake assessment (history, symptoms, current situation)

Michael will help you see what is actually causing your symptoms

Get 1-on-1 guidance as you start the program

Speak with someone who has been in your shoes and is now on the other side

*The complimentary 1-on-1 call is being offered for a limited time due to limited scheduling availability. This call is not for medical diagnosis, and is purely for informational purposes.
6 Months of
Coaching Support 
Ask questions and get help as you progress.

Personal video replies with detailed guidance.

Reach out when you need assistance.

Inside the private online community.
"Dr. Bri and Michael are
very responsive to questions and input and convey a very caring attitude

. The online forum is very helpful in that sharing our like experiences with each other is both informational and supportive."

- Steve P., USA
But you might be thinking…

is this program right for my condition?
Overcome empowers you to take control of your own pelvic health, at home. We always recommend visiting a physician and ruling out any major health issues first, if you've done that, and are still experiencing one (or more) of the following symptoms or conditions, then Overcome is designed for you:
Tightness in perineum

 Pain during or after ejaculation

 Pain during or after bowel movements

 Painful anal intercourse

 Overactive Bladder

Painful urination (made painful and frequent their own bullet points)

 Urinary frequency (changed frequent urination to urinary frequency)

 Weak erections

 Pain after ejaculation
Pain while sitting

Unexplained penile or testicular pain

 CPPS (Chronic Pelvic Pain Syndrome)

 Pelvic Floor Dysfunction

 Chronic Nonbacterial Prostatitis

 Levator Ani Syndrome

 Pudendal Neuralgia

 Interstitial Cystitis

 Proctalgia Fugax

 Hard Flaccid
Overcome is a proven path that helps you to address the root cause

of your pelvic floor dysfunction.
Created and Recommended by

Doctors of Physical Therapy
Overcome was co-created by Dr. Brianne Grogan, a Doctor of Physical Therapy with experience helping thousands of men and women to recover from CPPS. With over 300,000 subscribers on YouTube, articles featured on MindBodyGreen, courses on DailyOM, and a 5-star reviewed book, Dr. Bri is a leading voice in the field of holistic pelvic health and wellness.
Overcome Pelvic + Urinary Issues is recommended by numerous physical therapists, urologists, and sexual health practitioners.
What Does the Road to TRANSFORMING Your Pelvic Health Look Like?
FOUNDATIONS
Realize What is Really Going On
Learn about how this happened

Cutting edge neuroscience that explains pelvic + urinary dysfunction

Preview the path to recovery and get ready to transform

1-on-1 Assessment Call with Michael
Share your history, situation, and symptoms

Michael will look beneath the surface, pointing to the root cause

Get personalized guidance to set you on the path to success
MONTH 1
Reprocess the Symptoms and Pain
Shift neural circuitry from fear to safety

Reduce the pain and dysfunction with mind-body practices

Movement routines to release the tension
MONTH 2
Release Emotions and Harmful Behaviors
Discover repressed emotions and let them go

Exchange harmful thoughts and behaviors for self-compassion

Movement routines that train the pelvic floor and core
MONTH 3
Reprogram Your Brain and Body
Rewire your brain and body back to healthy function

Living life as the new you — present and balanced

Movement routines to bring pelvic and urinary strength
"I really feel like I have a friend…who not only understands what I am going through, but who actually takes time to respond and provide me with

constructive ways to navigate my challenge

."
- Victor Hugo, Canada
Don't Spend $18,470

Fighting This

Like I Did
Not only did this chronic ailment challenge my work, family, relationships, and daily life in general — but it also put a major strain on my finances. I was not nearly as strong, energetic, or able to work as I was previously, which led to a drop in income AND a big increase in expenses. But as you know, you will spend, and do, whatever it takes to get better when you're in a situation like this.
Here's a breakdown of what I had to spend while going through this:
Doctor's Visits (specialists) -

$1,100
Physical Therapy Sessions (2x a week for one year) -

$8,640
Acupuncture (1x week, three months) -

$840
Supplements (herbs/medicine/etc.) -

$1,400
Doctor of Chinese Medicine/Applied Kinesiologist (1x week for 11 months) -

$5,940
Testing (blood, other) -

$550
Total:

$18,470
Almost none of the above was covered by my health insurance, and so I was also paying a significant monthly premium for a policy each month (I am self-employed) that was not attributable to these alternative modalities...even my physical therapy was not covered!
What is staying stuck in pelvic pain costing you in your life?
Which of these success stories inspire you the most?
My debilitating symptoms of CPPS 

have essentially gone away

after 6 years.
"Through a combination of Dr. Bri's pelvic floor release stretches, and — surprisingly — finding out that my well water was the culprit, my debilitating symptoms of CPPS have essentially gone away after 6 years of searching for answers and relief. The combination gave me my life back!" 
- Chris G., New York
I realized this morning that I am essentially

pain free

.
"I wanted to share the positive news that this program is helping! On an even better note, I realized this morning that I am essentially pain free. I am just very aware of my pelvic area, and I believe I still feel some vulnerability. However, I am becoming more and more hopeful that that vulnerability is also temporary."
- Raul T., USA
I'm

less tense in the pelvic area

,

I'm less hesitant while urinating.
"In March 2021 I started to develop UTI like symptoms: painful ejaculation, burning during and after urination and I felt urine trapped to the walls of my urethra after urination. I started the Overcome Program for Men in September and have noticed substantial results. I'm less tense in the pelvic area, I'm less hesitant while urinating and I don't feel as much urine trapped in my urethra after urination. I highly recommend this program if you suffer similar symptoms and I will continue to use it even after I'm fully healed."
- Shane Williams, USA
It allowed me to

positively change my mindset

,

and for me, I think that was key.
"After many invasive tests, which all came back normal, and multiple doses of antibiotics I was really down and out. Anxiety and depression started to set in due to the despair of "what the hell is wrong with me"... I started googling my symptoms and by chance came across Dr Bri's Youtube channel, which led me to the male 3 month program to overcome pelvic pain. The exercises and stretches themselves felt great and would provide immediate relief, even if only temporarily. But the more I got into them, practised the meditation and mindfulness programs, the better I became. It allowed me to positively change my mindset, and for me, I think that was key. "
- Mark Biondo, USA
Begin Overcoming Your Pelvic Pain TODAY!
You Will Get Positive Results or It's Free!
Overcome is designed to give you meaningful, positive results in your body and your life! 1,000+ men have already returned to a life of pelvic strength. Do the complete 12 week program with full commitment, and if you don't get meaningful results, we will give you a full refund. Our conditions: we ask that you follow the program, and can show that you did so. Because we know that if you give it 100%, your life will change!
If you still don't experience meaningful results, just let us know within the first 90 days (just send our Support Specialist, Shannon, an email at [email protected]), and we will give you your money back.

If there's even a slight chance that this can work for you, I'd join today, because you can try the program and see if it works. If it doesn't we'll give you a refund. So far, less than 1% of men have refunded — our mission is making programs that work.
Extra Special Bonuses
(Because We Like to Over Deliver and Give You EVERY CHANCE AT SUCCESS)
Bonus #1
5 Things Every Successful Overcomer Have in Common
($97 Value)
Don't you wish you knew the secrets that other men have used to get past CPPS?! In this special training, Michael takes you through the 5 commonalities that he has spotted in those who succeed.
Fast-track your recovery by discovering what most others miss.

Inspire yourself by hearing of others who have healed before you.

Apply this information in your own journey, now.
Bonus #2
Mind Chill: Overcome Stress and Anxiety
($197 Value)
A 7 day experience taking you through simple practices and thought-provoking (dare I say, mind-blowing) information to help you trade anxiety for trust and stress for pleasure.
Learn why the monkey mind goes nuts all day long and how to chill it out.

Easy non-religious practices that shift your worry of the future into joy for the present.

Discover how to turn around a downward, catastrophizing spiral in 3 simple steps.
"By the end of the program, all my symptoms had resolved and my core was more well-trained than it had ever been."
- Jordan Parks, 29
When you join Overcome Pelvic + Urinary Issues, you'll receive instant access to everything you need to return to strength. Including:
1-on-1 Assessment Call with Michael

—feel seen and fully understood as you chat with Michael to discover what is at the root of your issues.



The 12 Movement Routines

— scientifically designed to release your tension, rebuild the surrounding muscle groups, and retrain the pelvic floor.



Trigger Point Releases

to massage knots of tightness in your pelvic floor to reduce pain.



Guided Meditations

that rewire your brain and body back to harmonious functioning.



Deep Relaxation Poses

that induce deep, rhythmic breathing, to chill out and recuperate.



6 Months of Support from Michael and Coaches

- get your questions answered when you need help!



Access to the Private Online Community

where you'll be understood and encouraged by other men who are recovering alongside you.



The TRNSFRM Formula

- just take it one step at a time and follow our proven formula back to health.



 

Mind Chill

is a 7 day bonus program that helps you to overcome stress and anxiety, which is essential when overcoming chronic pain.



5 Things that Success Overcomers Have in Common

is an extra training to give you the "secrets" to apply for your own healing.



Intrarectal Massage

and other relaxation practices to help you relieve pain and relax the nervous system.



 

A

3 Month Calendar

for you to easily follow day by day, without the guesswork of what to do next.



 

A

Positive Results Guarantee

so that you can go "all in" for the 12 weeks, and if for some reason you don't see changes, you can just get your money back.
Instead of spending $18,000 on treatments and over $20,000 on educational programs/mind-body learning...you get this fully guided program for just $259 today.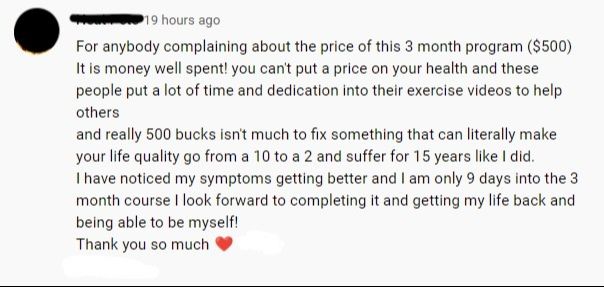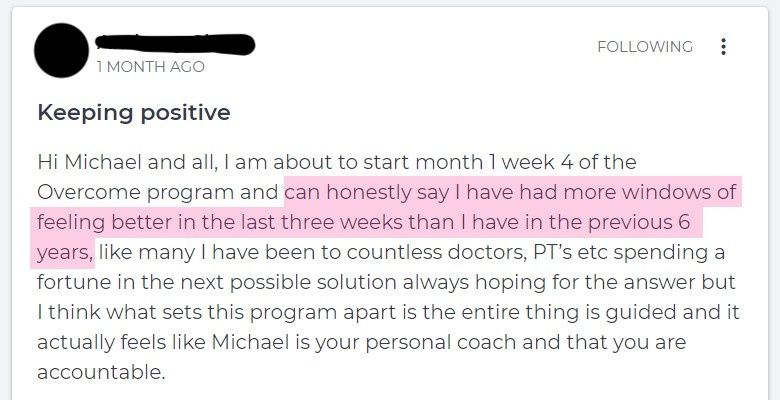 Frequently Asked Questions
How long will it take me to recover?
How will I be able to watch the videos? Can I watch on a TV?
Is this designed to treat Hard Flaccid?
How can I get help during the program?
I don't have pain, but I have urinary frequency and other trouble peeing. Is this right for me?
Will I have lifetime access to the course?
I really want to do the program, but I can't afford it.
One Last Thing
This isn't a sales pitch. I've done my best to simply portray to you that I've been where you are. I did everything I could, and it just didn't work. I scoured the internet and just found a few random nuggets here and there on old forums — at the time, something guided and comprehensive (like Overcome) did not exist. I also spent more than $18,000 on physical therapy, doctor's visits, supplements, and everything else while attempting to heal this. Honestly, this program is worth way more than the cost we have attached to it. If you make the firm decision that enough is enough, and today is the day — I applaud you! You must know in that moment that you are healed. That yes, some "clock time" will need to pass, and that you will need to wake up each day and follow this program. But, by knowing it, believing it, and having faith, you are not just "thinking yourself to health," but rather, you are epigenetically up-regulating your genes for restoration and repair. We will guide you through this for the next 12 weeks. I am so blessed to have the opportunity to serve you in this way. Thank you.